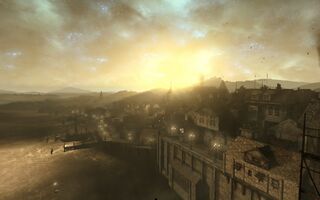 Auldale
is one of
The City
's districts. It is maintained from the original Thief series.
Whisky Limited Reserve is a major export from the Auldale Distillery.
Locations
Edit
Auldale Bridge

Jetty
Market Street

Stumble Gate General Store

Auldale Bridge Rooftops
Watch Junction
Foundations

Northcrest Manor

Courtyard
Fountain Court
Right Wing - Entry
Right Wing - Courtyard
Cellars
Drainage
Attic
Second Floor
First Floor
Great Hall
Library
Waiting Hall
Study Tower
Ceremony Room
Secret Passage
The Baron's Laboratory

Sewer Outlet
Auldale Botanical Gardens
Auldale Distillery
This is a revamped version of Auldale from original Thief series.
In a trailer the "District of Auldale" is labeled on a map on Basso's table along with Dayport and Power City(a generic name for an industrial area). The same map was updated in the released game and is now labeled "District of Dayport" and Cinderfall(Power city), although the old version was also left in A Friend in Need's chase scene as the texture asset was stored in separate locations.